Metal art or blacksmithing?
Strength or finesse, or maybe both?
Iron-Art's smithery is an attempt to combine both- it might seem – they are separate crafts, but they are connected, generally speaking, by the word... metalwork. We are inspired by Art Nouveau and everything related to it, which is why our products are often characterized by the Art Nouveau.
Did we manage it...? Please rate it yourself.
We make indoor, outdoor, balcony and terrace forged stair balustrades, modern and stylized stair and balcony barriers, wooden and metal handrails and steel handrails, as well as forged furniture for the room and hall.
Company History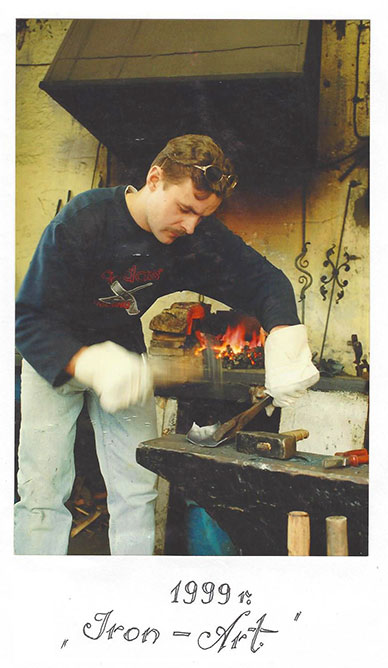 The history of our company began before World War II and goes back to four generations.
It all began with my grandfather, who learned the profession of a blacksmith from his uncle, and then passed this knowledge to his sons.
After 40 years, my father, having returned to blacksmithing, opened his own company in Lodz, which I am currently running with great passion and enthusiasm.
Artistic blacksmith-Maciej Kozubal
The profession of metalwork opened up to me after graduating from the State High School of Fine Arts, after which I received the title of Technician of Fine Arts in the field of artistic products, with a specialization in metalwork. Blacksmithing was my leading direction.
I put a lot of heart and patience into my work. My products are the result of precision, passion and dedication. In addition, I often use decorative elements, selected individually for each product. Thanks to the experience I have gained, I have been able to combine artistic blacksmithing with color metalwork. I treat my work as a hobby, which gives me joy.
Creation process
At the beginning of the product creation, I prepare the design of the selected model. I focus primarily on wrought iron, stair railing, internal railing, railing, stair railing and wrought iron furniture. I often frame my products in semi-precious stones. The range of forged furniture includes, among others, benches, tables and small tables as well as hangers. My products refer to the architecture of the Art Nouveau period and ArtDeco, which means that they are richly and precisely decorated. In my work, I combine artistic blacksmithing with colorful metalwork into one whole piece of work.
Balustrades are a particularly unique product, because their large dimensions allow you to accurately show off the beautiful decorations.
In addition to artistic products, we also deal with simpler works that are made by us for individual requirements and needs of the client.